We always thought of Palm Springs as being a luxurious oasis in the desert. And that is true, but there is so much more to it. It's eclectic, artsy, retro, colorful, mid-century modern, and beautiful in a way that our home in Colorado just isn't. Palm Springs was a perfect setting for Christine and Andrew's elopement. They're two of the most stylish people we've ever met. Christine's wedding gown came straight from the runway, and Andrew had a custom suit made.
They chose to get ready in an Airbnb in the outskirts of Palm Springs. The entire house was beautifully furnished, but the coolest part was the geodesic dome living room. Christine and Andrew got ready and enjoyed breakfast together before reading their vows to each other in a field of windmills. The wind howled through the valley and Christine and Andrew clung to each other as they had their private ceremony.
Christine and Andrew also have a tradition of getting caricatures drawn to commemorate big events. They got one on their first date and Andrew later proposed with one. So it only seemed fitting for them to have caricatures drawn on their wedding day. It was so much fun to see the drawing evolve and to see Christine and Andrew's reaction to it!
We left the put-togetherness (is that a word?) of Palm Springs for the off-beat and oddly nostalgic vibe of Joshua Tree. There, we ate what Christine declared probably the best pizza she's ever had before heading into Joshua Tree National Park. There, we basked in the golden hour sun and then they danced in the desert to their Frank Sinatra record.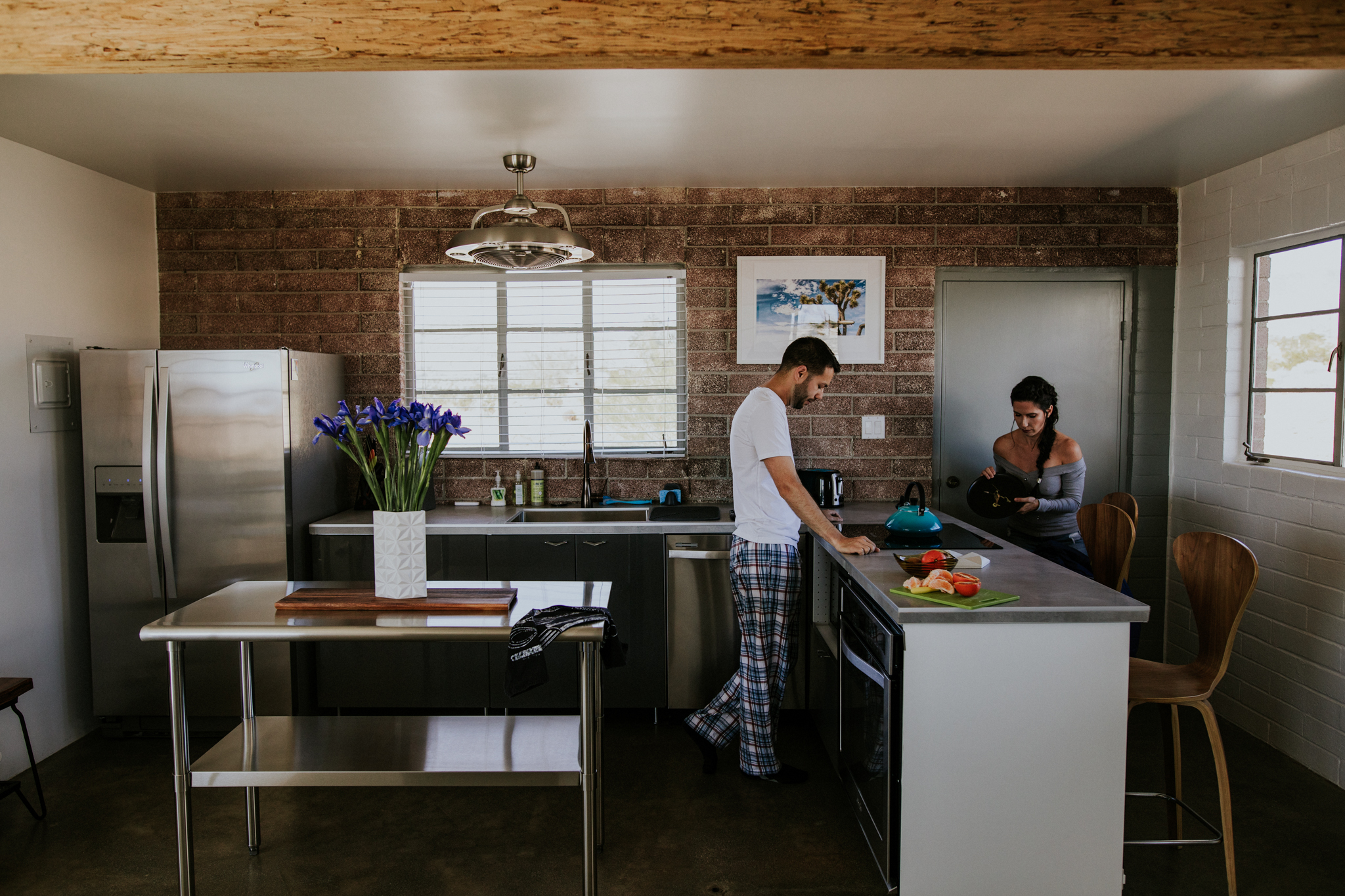 OTHER JOURNAL ENTRIES THAT MIGHT INTEREST YOU
Hey there!
We're Lisa + Alex, the goofballs behind Vow of the Wild. We live in the beautiful state of Colorado, but we are passionate about traveling to new places and meeting new people along the way. We are lucky enough to have what we consider to be the best job in the world (other than a professional dog petter). We get to create films and photos for adventurous Colorado Elopements and adventurous Destination Elopements across the globe! Feel free to reach out to us, we'd love to meet you!