"Let's just go get married in the mountains."
It started as a joke, but it stuck.
Shortly after getting engaged, Christine and Dane realized that the whole "big wedding thing" wasn't for them. To begin with, planning a big, traditional wedding is expensive! Have you ever tried feeding 150 people? But it also didn't feel like them. They envisioned getting married in nature, surrounded by their closest family and friends. This led them to Colorado.
When we first started helping Christine and Dane plan their elopement, they knew that they wanted to enjoy their ceremony with all of their favorite people, go on an adventure to the top of a mountain, and then return to an Airbnb rental for an outdoor dinner and dancing with their guests. They decided on Sapphire Point for their ceremony, and then found a large house with a huge deck in the back that was surrounded by forest.
On the morning of their wedding, Christine and Dane got ready in separate cabins with their friends and parents. They wanted to see each other for the first time at the ceremony, so they decided to stand back-to-back against a tree and read letters to each other. Christine read an entry from her diary that she wrote shortly after she and Dane started dating. We were all in tears.
Those tears continued at their ceremony. Everyone present found themselves crying, then grinning, then crying again, and finally bursting with excitement when Christine and Dane were pronounced as husband and wife. There were hugs all around until a Colorado afternoon thunderstorm made its way across Lake Dillon. Everyone hurried back to their cars and we decided to wait out the storm (Colorado thunderstorms usually come through pretty quickly).
Once it was safe to be outside again, we loaded into the car and drove to the top of a nearby mountain. Christine and Dane braved the freezing winds and shared the sweetest private mountaintop first dance. Once they were cold and windblown, we returned to the Airbnb for dinner. They hired a private chef to cook them a delicious meal and then ended the night with speeches and dancing.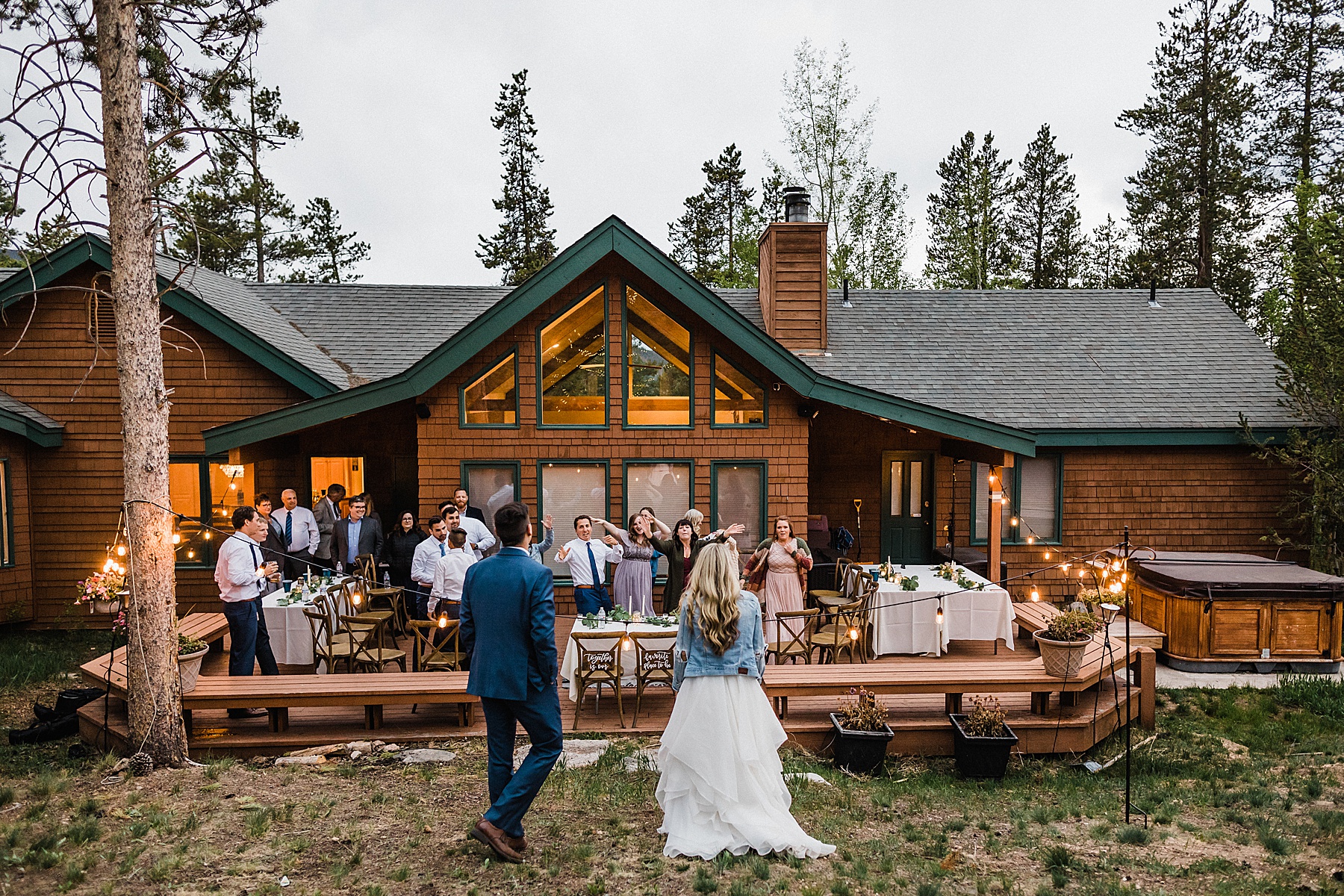 Hey there!
We're Lisa + Alex, the goofballs behind Vow of the Wild. We live in the beautiful state of Colorado, but we are passionate about traveling to new places and meeting new people along the way. We are lucky enough to have what we consider to be the best job in the world (other than a professional dog petter). We get to create films and photos for adventurous Colorado Elopements and adventurous Destination Elopements across the globe! Feel free to reach out to us, we'd love to meet you!